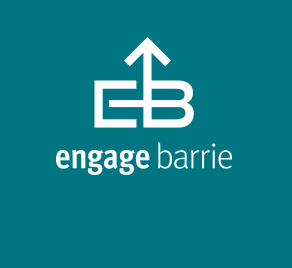 Engage Barrie is a collective that formed in 2019 to help foster an equitable community, mobilize and empower people, and build an engaged local democracy.  We believe that the more people who share their ideas about our city, the more diverse, representative and equitable our municipal actions will become.
---
Current Campaigns and
Calls To Action
While we've got lots of members involved in lots of projects all the time, here are the ones we need your help with right now. Please click through and see how you can help make our city more equitable, with residents who are empowered and engaged!
SCSL-B: Neighbourhood Consultation Sessions re: Additional SCS Site Options
Simcoe Muskoka Health is inviting the public to participate in a virtual (online) neighbourhood consultation, to give feedback on how the four proposed Supervised Consumption Service (SCS) locations can best meet the needs of the clients using the services and the surrounding residential and business community. Please visit their Neighbourhood Consultation Sessions page to sign up for ONE of:

Friday, April 9 (10am-12pm)
Wednesday, April 14 (3-5pm)
Thursday, April 15 (5-7pm), or
Monday, April 19 (6-8pm).

You will be asked at sign-up to select ONE site you wish to discuss in-depth (although participants will be given a chance to give feedback on all 4, there will also be "breakout groups" set up for feedback on each potential site).

The four locations under consideration are:

110 Dunlop St. W., Unit 4
11 Sophia St. W.
19 Innisfil St. (previously referred to as 80 Bradford St., Unit 940)
192 Bradford St.

For further details about these buildings, please view our update.
SCSL-B: Sign the Petition: "Say YES to Barrie's SCS"
Sign our Change.org petition to Barrie City Council, calling on them to stop the delays, and endorse the CMHA & SMDHU's application for a Supervised Consumption Site in downtown Barrie, before any more lives are lost.
SCSL-B: Sign the UserVoice, calling on the resignation of BIA Chair Rob Hamilton
Rob Hamilton's classist and racist words are against the Code of Conduct he is expected to hold himself to. His reprehensible comments must be acted upon. City Council must remove him from the Board of the Downtown BIA.

Please visit the CBC Story to read more, and watch the video of his speech, then sign the UserVoice Petition
We have been made aware that on February 6, 2021, the Downtown Barrie Business Association (BIA) launched a website, co-opting our name to put out messaging that goes against both our position on the SCS and our position paper on public engagement.

Thank you to all who alerted us to the mis-use of our name and identity.

Our position on supporting a downtown Supervised Consumption Site remains the same as when Engage was founded in 2019. Please continue to follow our SCS-related sites, found via the "Supervised Consumption Site" button below, for our true position.
SCSL-B: Downtown Businesses / Residents / Visitors, visit VoicesOfDowntown.com
Add your business or organization to our list of Downtown SCS supporters, request a window sign, send an email to City Council, and learn more at www.voicesofdowntown.com
Projects and Initiatives
Our first project was hosting the only all-candidates meeting for the Ward 3 by-election in January 2020. Our first report to Council was later that spring, regarding Ranked Ballots (it was successful, in that they agreed to add it as a referendum question in the 2022 election – sadly, the province rescinded municipalities' right to choose, but we'll keep pushing!). We campaigned to reallocate 10% of the police budget to health and social services. We prepared a position paper on community/public engagement, and submitted it to both City Council and the Police Services Board. And were a part of the creation of Just Recovery Simcoe, and recently incorporated Barrie Community Media.
2021 Budget and Business Plan
Letter to Council, January 18, 2021
Workplace Harassment Case
What Is Happening At Barrie City Council:
During an Oct.20 General Committee meeting, councillors received a report on a workplace harassment investigation that is subject to solicitor-client privilege. (This means that communications and documents are confidential as between the client and the lawyer. What might otherwise be relevant evidence or information, admissible in court or required to be disclosed to the other side in a lawsuit, can be kept confidential.)[1]

Video: https://youtu.be/qau2WjQaDbI
Minutes: http://barrie.legistar.com/View.ashx?M=M&ID=810648&GUID=CC9E1D0B-16FE-4C79-9425-9C24D46176B0

CUPE Local 2380 president Mike Murphy, who represents unionized employees at the city, confirmed to Simcoe.com that the alleged incident happened less than a year ago and involved a member of Council and a full-time, unionized city employee. "I can't give you names because there is a confidentiality piece," he said. "There were a number of allegations that were made, and many of them were substantiated." [2]

As a result, the Committee has asked the city's Human Resources Director, Clerk, Integrity Commissioner and legal counsel to amend municipal anti-violence and workplace human rights procedures. The goal is to remove language identifying roles and responsibilities for City Council and staff while investigating "complaint allegations involving council and committee members." [3]

The Committee also wants the clerk to determine whether there is a need to amend Council's Code of Conduct to clarify the "roles and responsibilities" of the Integrity Commissioner on complaints related to workplace violence or harassment. [4]
During the Oct.20 deliberation, Deputy Mayor Barry Ward tried to make an amendment to the above motion which called upon the Integrity Commissioner to investigate the allegations set out in the confidential staff report. This amendment failed to pass:

Councillors Clare Riepma, Keenan Aylwin, Ann-Marie Kungl, and Barry Ward all voted IN FAVOUR of this amendment.Councillors Robert Thompson, Natalie Harris, Gary Harvey, Jim Harris and Sergio Morales all voted AGAINST this amendment.Councillor Mike McCann abstained from voting.Mayor Jeff Lehman, who chairs the committee, only votes to break a tie, which was not needed in this case.
Deputy Mayor Barry Ward put forth another amendment, which requested that "the matter be referred to external legal council to provide an opinion on alternative actions that could be undertaken in response to the results of the investigation in the confidential staff report HRS00220." This amendment also failed to pass. Once again:

Councillors Clare Riepma, Keenan Aylwin, Ann-Marie Kungl, and Barry Ward all voted IN FAVOUR of this amendment.Councillors Robert Thompson, Natalie Harris, Gary Harvey, Jim Harris and Sergio Morales all voted AGAINST this amendment.Councillor Mike McCann abstained from voting.Mayor Jeff Lehman, who chairs the committee, only votes to break a tie, which was not needed in this case.
You can watch these votes here: https://youtu.be/qau2WjQaDbI

The original motion (referenced above) was passed, and went in front of City Council on October 26th.
What Does This Mean?
Council has passed a motion to have its current code of conduct evaluated, as well as the Integrity Commissioner's role in workplace violence/harassment cases assessed as a result of the information in a confidential staff report which discusses a workplace harassment case between a member of City Council and a unionized, city employee.

Many of the facts in this workplace harassment investigation have been SUBSTANTIATED, which means they have been proven to be true.

However, Council FAILED to pass an amendment to the motion which would require the city's Integrity Commissioner to investigate these allegations, and also failed to pass another amendment which would refer this matter to external legal council.

Council has agreed to have their code of conduct adjusted, but has refused to address the workplace harassment situation that is happening between someone around their table and a city employee. They are excusing the harassment in place of a bandaid solution, where the council member who is responsible for harassment will receive no punishment, repercussions, or accountability.

Once again, these are the members of Council who voted AGAINST an investigation into the workplace harassment case, and AGAINST referring to external legal council to provide alternative action and opinions on the case: Councillors Robert Thompson, Natalie Harris, Gary Harvey, Jim Harris, and Sergio Morales.
October 26th Council Update
Deputy Mayor Ward re-introduced the second amendment that had failed the previous week, and the motion passed by all who voted (once again, Mike McCann did not vote – although he was still present in the meeting, and did not declare a pecuniary interest).

The wording of what was added to the initial motion is:

4. That external legal counsel be retained to provide advice to General Committee on alternative actions and related risks regarding the matter discussed in confidential Staff Report HRS002-20 and that this information on alternative action and related risks only be circulated to members not directly associated with the matter.
5. That an external party(s) with expertise in human resources and municipal law be retained to review staff's handling of the complaint as outlined in confidential Staff Report HRS002-20 with a report back to General Committee on possible changes to policy and procedures on how complaints are dealt with in the future.
6. That the City's Integrity Commissioner be consulted by City staff on the choice of the external parties in paragraphs 4 and 5 and that City Council approve the choice.

Councillor Jim Harris also added the following amendment:

That City staff and City Council be encouraged to participate in the national survey on workplace harassment and violence, "Respect in the Workplace" being conducted by the Centre for Research and Education on Violence Against Women and Children at Western University.
October 29th Council Update
Permission was granted by Council to retain the services of Aird Berlis for the purposes of the above motion.

1. That Aird Berlis be retained to address matters identified in paragraph #4 of motion 20-G-174 concerning a workplace investigation;
2. That the costs associated with the legal advice be funded from the Council - Contracted Services Account, and the costs for the review be funded from the CAO - Contracted Services Account;
3. That the Mayor be delegated authority to execute the retainer agreements with Aird Berlis for their services;
4. Upon completion of the preparation of the legal advice and the review, Aird Berlis provide these documents directly to Council through the City Clerk.

There will be a (confidential, we presume) presentation to General Committee on November 9 at 5pm, regarding the workplace investigation.
November 9th General Committee Update
So, many have been asking "what happened?" with the workplace harassment case Monday night. And… well, for the longest time, none of us really had a clue. And now that the video of the 5pm General Committee meeting has finally been posted… well, it answers the question "what did they actually vote on at Council?", but it sure as heck raises A LOT MORE questions!

The first concern, as we noted in our weekly Council Preview, was that there had been no public video link provided for the General Committee meeting. As it was listed as "Presentation re: Confidential personal information and solicitor-client privilege matter - Workplace Investigation" (note how the harassment claim has been minimized in the wording?), it's understandable that the public would not be able to view the in camera portion of the meeting, but they should have been able to see the vote to go in camera, and the vote on the motion after coming out. You will note that a link to the video is still not available on the city's Legistar site, but can only be found at https://youtu.be/tlxmGNl1qew, if you know what to look for. The video wasn't available on Youtube until Tuesday afternoon (long after the City Council meeting at which the vote was ratified).

Score F for transparency.

So, by the time of the 7pm City Council meeting, nobody in the public knew anything about the 5pm General Committee meeting (as they should have). Which made it very frustrating and confusing when Council voted on the General Committee Report – but it was not stated what the GC motion (that they were now adopting) had been, nor was it available in the Legistar meeting notes or agenda. Even the mover, Deputy Mayor Ward, seemed confused what the motion was at first, confirming with the clerk whether it was to receive or adopt the report. The vote was to adopt the report, although no mention of what that was. And then the motion passed unanimously. Yes. Unanimously – as in, everyone voted yes.

Which is where the frustrating and confusing part comes in, because this report was dealing with the workplace harassment matter, and the only item on that General Committee agenda had been a presentation on the case.

Keep in mind what we DO know:

1. The case is about the alleged harassment by a Councillor upon a staff member.
2. On all previous votes regarding this case, Councillor McCann withheld his vote (follow the bouncing ball).
3. Amendment #1 to the motion regarding this item specifically included "…that this information on alternative action and related risks only be circulated to members not directly associated with the matter."

So even if the natural assumption from #2 were incorrect, and it is another Councillor who is the respondent, there was a very obvious conflict taking place. As far as anyone was aware at that point, whichever Councillor WAS directly associated with this matter was nevertheless allowed to vote on the matter – so had either been privy to the confidential information they should not have received, or were voting "blind", or had forgotten and voted in error. Either way, the Chair/Mayor should have reminded said member of the conflict, and that person should not have been allowed to vote. Why did the Mayor not follow this standard procedure?

Another interesting piece of information did get revealed shortly after this vote, during discussion over Councillor Harvey's direct motion to change the reporting deadline in the Code of Conduct from 6 weeks to 6 months after an incident. If you watch https://youtu.be/tlxmGNl1qew, at 27:00 Deputy Mayor Ward mentions that he's never heard of a case where the 6 week deadline had proven to be a problem. "Have we had any case where somebody waited more than the required time to put a request in for an Integrity Commissioner investigation?" Staff confirms they are unaware of any such case existing, although would defer to Ms. Craig for her confirmation.

ERGO: The reason for the Integrity Commissioner not investigating this complaint is NOT due to the complainant being late to file it. (As some had been previously implying.)

Score F for accountability.

But, back to all Councillors voting on the GC report on the presentation about the confidential matter. If you were having a Pollyanna evening and hoping it was just an oversight, that illusion would last until Tuesday afternoon, when the General Committee video was released. And you can see that in the GC meeting as well, ALL COUNCILLORS voted. Not only that, but ALL COUNCILLORS were in attendance, despite the motion that the information only be shared with those not directly associated with the matter.

So it appears the Councillor who was NOT supposed to receive information regarding this case attended the presentation on the case, and was allowed to vote on the motion after the committee returned from their in camera session.

If you take a look at the GC meeting (https://youtu.be/r6wd3pyT86E), you see that all ten Councillors plus Mayor are present at the opening of the meeting, as they take a vote to move in camera. Consistent with his previous voting patterns on this matter, McCann withholds his vote (although the Clerk claims all are in favour, for some reason). And then, when the committee comes back from in camera, ALL Councillors, including McCann, are present – which seems to indicate that all Councillors were present for the confidential presentation (!). Which seems to go directly against the previous motion and instruction regarding this case, as well as indicates a SERIOUS conflict of interest – which neither the Chair/Mayor nor any other person on screen mentions.

We do, at least, finally learn what the motion was that was adopted later that evening at City Council: "That the personal information matter and solicitor/client privilege matter on the November 9 General Committee meeting be deferred to a General Committee meeting on November 23." And then EVERYONE votes yes. (Including a very quick-off-the-mark Thomson and a GRINNING Jim Harris.)

While we know very little about the case, we do know that a Councillor allegedly assaulted a staff member (and that the union investigation into the matter found many of the complaints to be substantiated). Judging by J.Harris's amendment that Councillors be encouraged to take part in the National Survey being conducted by the Centre for Research and Education on Violence Against Women and Children, it is safe to assume that the complainant is a female. We do know that, up until last night, only one Councillor (McCann) had withheld his vote on all matters pertaining to that case. We do know that Councillors Thomson, N.Harris, Harvey, J.Harris and Morales voted AGAINST the Integrity Commissioner investigating the allegations. We do know that Councillors Thomson, N.Harris, Harvey, J.Harris and Morales initially voted AGAINST the matter being referred to external legal council to discuss possible actions. We can now surmise that the reason the Integrity Commissioner has not investigated this complaint is NOT because the complainant failed to meet the deadline to report. We do know that the member of Council directly associated with the case was not supposed to receive information on the legal advice, yet was present at the meeting for which the presentation had been scheduled, appears to have been participating in the in camera session, and was allowed to vote on the resulting motion. We do know that ALL COUNCILLORS voted to defer this matter for another two weeks.

Which begs several questions. Including why such an obvious conflict of interest in attendance and voting was allowed? Including why this matter is being delayed again – and what sort of special hell the complainant must be going through right now, as a result of all these stall tactics? Why did five Councillors vote against investigating the matter? Why did those five Councillors essentially throw a city staff member under the bus in order to keep SUBSTANTIATED FACTS about one of their own silenced? Why did all Councillors vote to delay any action towards justice for this (presumably female) staff member yet again. (Why did the result of this vote make J.Harris so grin with delight?) And why did the Mayor (who previously proudly trumpeted the creation of the Women's Advocacy Council) not step in with, at the very least, a guiding preamble, a reminder about workplace safety and the City's responsibility to uphold it, or a reminder/caution about conflict of interest?

Score F for transparency. Score F for accountability. Score F for creating an equitable workplace environment. Score F for empowering those Council is hired to serve.

Is it any wonder that Barrie has CONSISTENTLY been rated as one of the CCPA's "Worst Places to Be A Woman In Canada" over the last few years, and was THE WORST PLACE TO BE A WOMAN IN CANADA in 2019??? The Women's Advocacy Council has their work cut out for them. If only we had faith that Council would listen…

We're watching you, City Hall. DO BETTER.
November 23rd General Committee Update
Once again, the public was locked out of even the public portions of this meeting, and had to wait for the video to be uploaded the next day, before having even a hint of what happened at General Committee. It's now available at https://youtu.be/fHFdP5TbDoA.

Score F for transparency – AAAA-GAIN

Once again, ALL members of Council were present (i.e., even the respondent who a previous motion stated shouldn't be privy to the legal advice in this case), which once again begs the question why they were allowed to stay. Mike McCann was off screen when Council came back from their in camera session, and was not seen to vote. The now-released minutes state he left the meeting at 10:15pm (the meeting ran to 12:16am)

The two motions coming out of the meeting were 1) that "the confidential notes concerning the discussion of a presentation regarding a confidential personal information and solicitor-client privilege - Workplace Investigation, be received"; and 2) "That staff in the Legal Services Department and/or representatives of Aird Berlis LLP undertake the actions required to implement the confidential direction provided".

We don't, of course, have any information on what those actions may be. We can see, from the looks on many councillors' faces, and the end-time of the meeting, that it was not a pleasant evening.
What Can You Do?
This matter is ongoing, and there is still a chance that the councillors who voted against Ward's original amendments could block action taken in terms of justice for the complainant, or accountability for the councillor charged. Please continue to show them you're watching, and want them to do the right thing, and not block a proper investigation and course of accountable action in this case.

By initially refusing to take investigative action on this workplace harassment case, they showed that workplace safety is not a priority, that (some) council members are immune to accountability, repercussions and punishment, and that they believe this type of behaviour from an elected official is acceptable.

Once again, these are the Councillors who originally voted AGAINST an investigation, or taking other action in a case of a Councillor's workplace harassment of a city employee:

WARD 5: Robert Thomson – [email protected] 705-739-4275
WARD 6: Natalie Harris – [email protected] 705-739-4286
WARD 7: Gary Harvey – [email protected] 705-739-4217
WARD 8: Jim Harris – [email protected] 705-739-4273
WARD 9: Sergio Morales – [email protected] 705-739-4256

A full list of Council members, and their contact information can be found here: https://www.barrie.ca/City%20Hall/MayorCouncil/Pages/default.aspx
1. https://www.canadaemploymenthumanrightslaw.com/2018/07/solicitor-client-privilege/
2. taken from Chris Simon's article: https://www.simcoe.com/news-story/10230391--uncharted-territory-barrie-committee-meets-in-camera-over-workplace-harassment-investigation-invo
3. Taken from official minutes of the General Committee Report from the meeting held October 20th, 2020: http://barrie.legistar.com/View.ashx?M=M&ID=810648&GUID=CC9E1D0B-16FE-4C79-9425-9C24D46176B0
4. ibid.